Acquire™ EDC is one of the most comprehensive, reliable, accurate, and state-of-the-art, Clinical Research Software, data acquisition and management systems available. Innovative Clinical Research Solutions has developed a web-based electronic data capture (EDC) system for clinical trials data that reflects our 40 years of experience in research services and analysis, and our commitment to deploying the latest proven technologies in pursuit of our goal - to provide quality study data in a secure environment.
Subject Management Screen (click to enlarge):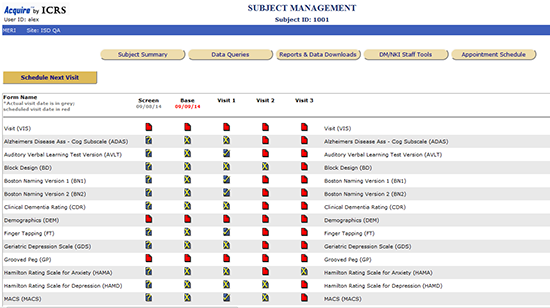 Acquire™ is web-based and has been validated on all common browsers and platforms, including Windows, Mac, and tablets. Intended to be used as a paperless system, it offers real-time data entry validation and cross-form checks to reduce errors, skip-jumps to prevent unnecessary data entry, full audit trails, and an integrated query tool for quick and easy query generation and resolution.
Acquire™ features an extensive library of standard case report forms and reports to facilitate rapid study deployment and real-time monitoring of subject recruitment, enrollment and retention, overall study progress, safety, data completeness, data accuracy and data timeliness. The electronic data capture system is easily customizable for additional case report forms (CRF) and custom reports to meet your specific needs.
Example CRF: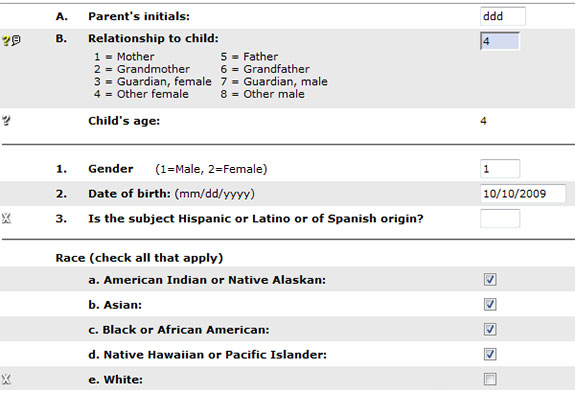 EDC Security
Acquire™ meets or exceeds all FISMA, HIPAA, and 21 CFR Part 11 electronic data collection specifications, features and security. The secure electronic data capture system is configurable for access restrictions at the study and form level. Daily backups and a full disaster recovery facility guarantee system access even in the event of an emergency.
Integrated Auditing and Monitoring
And Acquire™ is backed by an experienced system development team, whose members average over a decade of experience in research support systems. Our programmers work closely with data managers and principal investigators to provide quick responses to the need for new and custom system features. Our commitment to applying the latest proven technologies as the demands of clinical research change ensures the continued viability of your investment in the Acquire™ EDC system.
Contact us if you have questions or if you'd like more information.